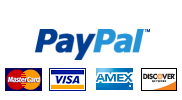 Please pay us within 3 days after bidding. We accept all major credit card through PayPal. The item(s) should ship in 24 - 48 hours after receipt payment. Some item if out of stock may delay shipping.

View: All Items
0
results found in
Skirts/Shorts
Your search returned 0 items.
Try these alternatives:
See all items in this Shop
Have you selected to search with title and description? If you haven't, try to use this filter and might get more results.