Delivery Information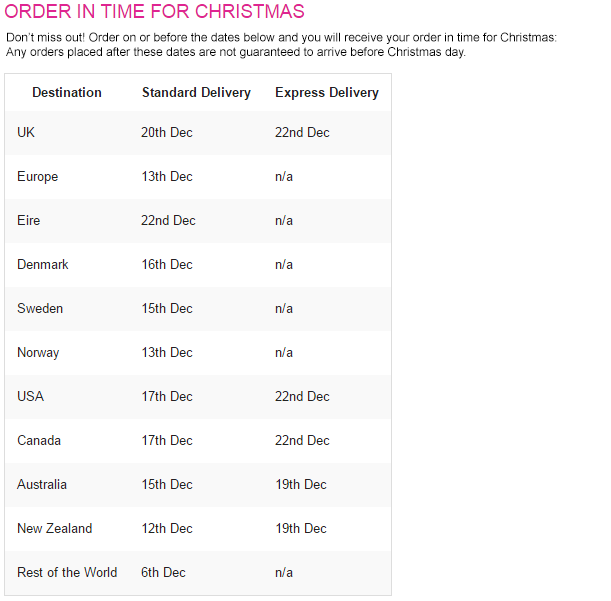 Don't miss out! Order on or before the dates below and you will receive your order in time for Christmas:
Any orders placed after these dates are not guaranteed to arrive before Christmas day.
| | |
| --- | --- |
| UK Standard Delivery: | 20th December |
| UK Next Day Delivery: | 22nd December |
| Eire Standard: | 22nd December |
| Europe: | 13th December |
| Rest of World: | 6th December |
Where we deliver to?
Please see the map below for all countries we ship to, including estimated delivery times, delivery charges, the cost for combining orders and free postage offers!
Please note: We have set our estimated delivery times as a guideline only and take into consideration the different delivery timescales for more rural areas.
Please click on the map for full size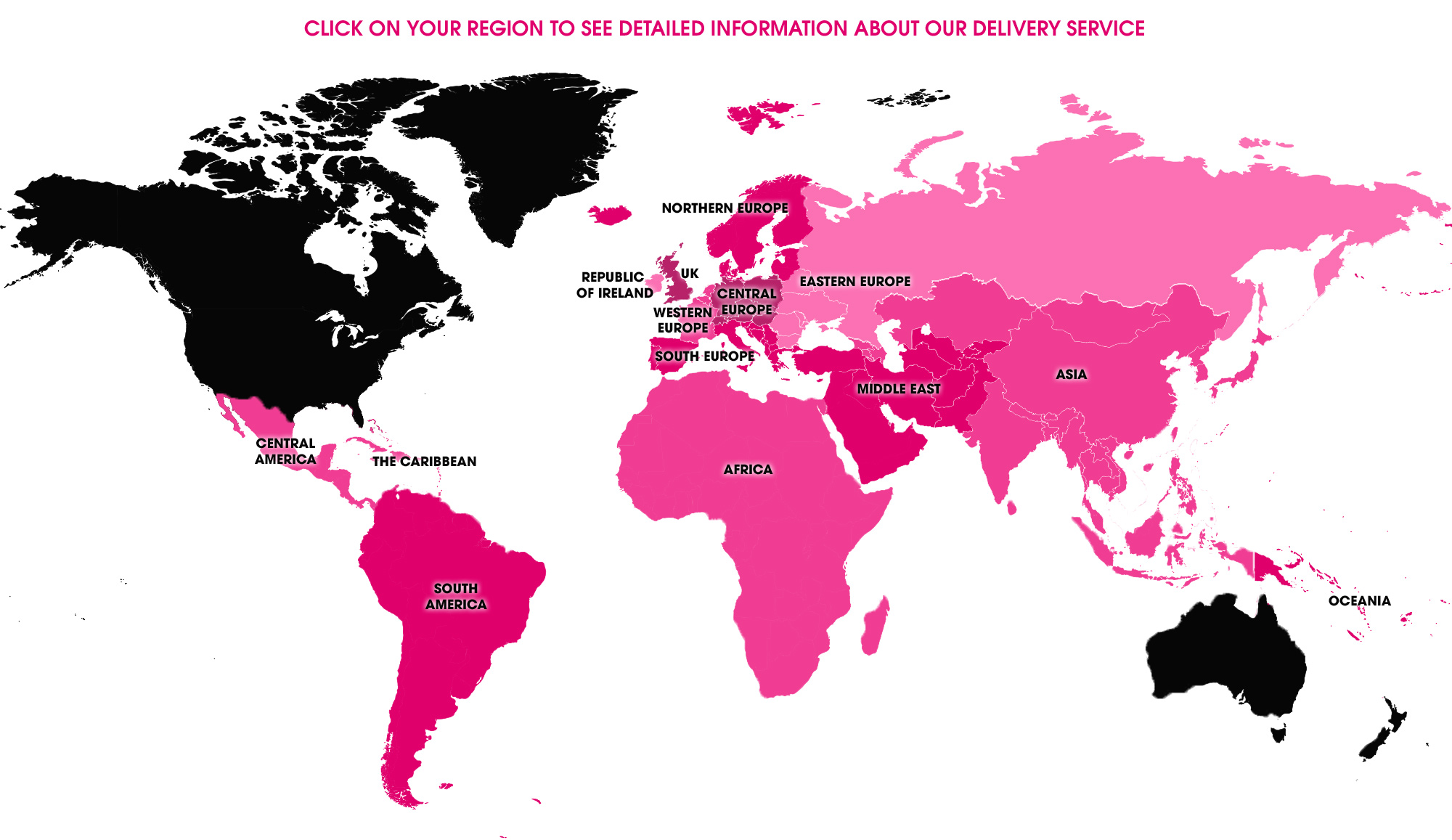 Combined Postage
We offer combined postage on your order.
You may order up to 6 items and combine for the same delivery cost.
Simply add all your items, (up to 6), into your eBay basket, and then go through to make a simple payment. Please note: Items are not reserved in your eBay basket, and payment must be made to secure them. If you 'Buy It Now' on individual items, you will be charged postage for each order, so by using the eBay basket we are able to combine orders.
For more information on how to add items to your eBay basket, please see the Payment tab.
Next day delivery services
Please note: you must place your order for UK next day delivery services by the following times during the Christmas period to receive the next working day.
26th December 2:00pm
27th December 7:00pm
28th December 2:30pm
29th December 8:00pm
30th December 8:00pm
(Please note: We offer an express service for deliveries within the UK ONLY).
Please note that UK and Republic of Ireland deliveries can be made any time between 7:00am and 9:00pm. Please ensure there is access to the delivery address at all times during this period.
We are very sorry but we cannot offer Next Day delivery to the following postcodes:
AB (All), BT (All), DD (All), DG (All), FK (All), IV (All), KA (All), KW (All), KY (All), ML (All), PA (All), PH (All), TD (All), GY ( All), HS ( All), IM ( All), JE (All), TR21, TR22, TR23, TR24, TR25, ZE1, ZE2, ZE3
Please note for the Next Day Delivery service, the following areas may take 3 – 5 working days:
Channel Islands, Highlands & Islands of Scotland, Shetlands.
Our couriers
We use either Royal Mail or one of our other delivery partners. If there is no-one available to take delivery they may attempt to leave it with a neighbour or in a safe, secure location. A card will be left to advise of this, or to confirm that the parcel has been returned to the local depot. You can then contact them to arrange a collection or schedule a new delivery date.
Please note that a signature may not always be required.
Any Further Queries
If you have any further queries regarding delivery, please contact us at ebay@boohoo.com, or alternatively, just click on the 'Contact us' link at the top of the page.
Our office opening hours are Mon-Fri 9.30am-5pm, (UK Time), (Excluding weekends and Bank Holidays). We aim to respond to all queries within 48 hours (2 Working Days)
Delivery Information
Don't miss out! Order on or before the dates below and you will receive your order in time for Christmas:
Any orders placed after these dates are not guaranteed to arrive before Christmas day.
| | |
| --- | --- |
| Standard Delivery: | 17th December |
| Express Delivery: | 22nd December |
| Canada Standard Delivery: | 15th December |
Order before 12pm PDT, and you'll get your boohoo.com package within 6-8 working days. Your parcel will also be tracked, so you know it's in safe hands!
Where we deliver to?
We deliver to Northern America.
Please note: Estimated delivery times are a guideline only.
COMBINED SHIPPING
We offer combined shipping on your order when you use Ebay Shopping Cart.
YOU CAN ORDER UP TO 10 ITEMS PER DELIVERY, SO YOU'LL ONLY PAY ONE DELIVERY CHARGE FOR YOUR BOOHOO HAUL!
Simply click 'Add to cart' for each item.
When you're done shopping, click the shopping cart icon in the top right to complete your order!
Please be aware, if you 'Buy It Now' on individual items, you will be charged postage for each order.
Any Further Questions?
If you have any further questions regarding delivery, please contact us at ebay@boohoo.com, or alternatively, just click on the 'Contact us' link at the top of the page.
Our office opening hours are Mon-Fri 9.30am-5pm, (UK Time), (Excluding weekends and Bank Holidays). We aim to respond to all queries within 48 hours (2 Working Days)
Livraison
* NOTRE GARANTIE DE LIVRAISON DE NOËL: COMMANDEZ JUSQU'AU 17 DÉCEMBRE INCLUS POUR RECEVOIR VOTRE COLIS BOOHOO À TEMPS POUR NOËL. NOUS NE POUVONS PAS GARANTIR DE LIVRAISON AVANT LE JOUR DE NOËL POUR LES COMMANDES PASSÉES APRÈS CETTE DATE.
Où nous livrons?
Nous livrons dans tous les pays de l'Union européenne, mais il y a quelques exceptions ci-dessous:
Europe - à l'exclusion (Andorre, îles Canaries, Groenland, Gibraltar, Islande, Norvège, San Marin, Suisse et Vatican, Turquie).
Quels sont les frais d`affranchissement et les délais de livraison estimés?
Des livraisons européennes
Livraison standard - (5-10 jours ouvrables) - GRATUIT
(Veuillez noter: Nous ne proposons pas de distribution exprès en Europe).
Nous avons défini des délais de livraison estimés ci-dessus . Nous vous prions de noter que nous ne pouvons pas garantir la réception de la marchandise dans les délais de livraison estimés.
Frais de port combinés
Nous offrons de frais de port combinés de votre commande.
Vous pouvez commander jusqu'à 6 articles et les combiner avec des mêmes frais de livraison.
Il suffit d'ajouter tous vos articles, (jusqu'à 6), dans votre panier eBay, puis passez à travers d'effectuer un paiement simple. Veuillez noter: Les articles ne sont pas réservés à votre panier d'eBay, et le paiement doit être fait pour les protéger. Si vous procédez au "Achat immédiat " des objets, vous devrez payer l'affranchissement de chaque commande, donc en utilisant le panier eBay nous sommes en mesure de combiner vos commandes.
Pour plus d'informations sur la méthode d`ajouter des articles à votre panier eBay, veuillez regarder l'onglet Paiement.
Nos transporteurs
Nous utilisons soit Royal Mail ou l'un d`autres partenaires de livraison. En cas vous n`est pas disponible à prendre livraison, on pourra tenter de la remettre à un voisin ou dans un endroit sûr et sécurisé. Une carte sera laissée pour l'informer de cela, ou pour confirmer que le colis a été retourné à l'entrepôt local. Vous pouvez alors communiquer avec les transporteurs pour organiser une collecte ou une nouvelle date de livraison.
Veuillez noter que la signature ne sera pas toujours nécessaire.
D'autres questions
Si vous avez d'autres questions concernant la livraison, veuillez nous contacter à ebay@boohoo.com, ou bien, il suffit de cliquer sur «Contactez-nous» lien en haut de la page.
Nos heures d'ouverture du bureau sont du lundi au vendredi 9.30-17 heures, (heure anglaise), (Hors de week-ends et jours fériés). Nous essayons de répondre à toutes les demandes dans 48 heures (2 jour ouvrable), cependant la plupart des requêtes sera répondu à plus vite que ça.
Consegna
* CONSEGNA ENTRO NATALE GARANTITA: ORDINA ENTRO IL 15 DICEMBRE (COMPRESO) E IL TUO PACCO BOOHOO TI ARRIVERÀ PRIMA DI NATALE. PER GLI ORDINI EFFETTUATI DOPO QUESTA DATA NON È GARANTITA LA CONSEGNA PRIMA DI NATALE
Scheda sulle Spese di Spedizione nelle inserzioni e pagina personalizzata Consegna
In quail Paesi si effettuano le consegne?
Consegnamo in tutti i Paesi dell'Unione Europea; tuttavia, ci sono alcune eccezioni sotto riportate:
Europa – Esclusi (Andora, le Isole Canarie, Groenlandia, Gibilterra, Islanda, Norvegia, San Marino, Svizzera e lo Stato della Città del Vaticano, Turchia).
Quali sono i costi di spedizione e i tempi di consegna stimati?
Consegna in Europa
Consegna Standard – (5-10 giorni lavorativi) – GRATUITA
(Attenzione: Attualmente non offriamo l'opzione di consegna Express per l'Europa).
Abbiamo indicato i tempi di consegna stimati sopra riportati solo come linee guida. Tieni presente che non possiamo garantire che riceverai gli articoli entro i tempi di consegna stimati.
Spedizione Combinata
Offriamo spedizione combinata per il tuo ordine.
Puoi ordinare fino a 6 articoli e combinarli allo stesso costo di spedizione.
Basta aggiungere tutti i tuoi articoli (fino a 6) nel tuo carrello eBay, e poi procedere per effettuare il pagamento. Attenzione: Gli articoli non sono salvati nel tuo carrello eBay, e dovresti effettuare il pagamento per garantirli. Se scegli l'opzione "Compralo subito" per ogni singolo articolo, ti verrà addebitato il costo di spedizione per ogni ordine; utilizzando, invece, il carrello di eBay, possiamo combinare gli ordini.
Per maggiori informazioni riguardo a come aggiungere articoli nel tuo carrello eBay, si prega di vedere la sheda sui Pagamenti.
I nostril corrieri
Usiamo Royal Mail oppure uno dei nostri partner di consegna. Se non c'è nessuno disponibile per ritirare la consegna, potrebbero lasciare il pacco da un tuo vicino di casa, oppure in un posto sicuro e protetto. Ti lasceranno un biglietto per avvisarti o per confermare che il pacco è stato restituito al deposito locale. Potresti allora contattarli per concordare il ritiro o stabilire un altro giorno per la consegna.
Attenzione: non sempre potrebbe essere richiesta la firma.
Ulteriori Domande
Se hai altre domande riguardo alle consegne, ti preghiamo di scriverci a ebay@boohoo.com, oppure, basta cliccare sul link "Contattaci" nella parte superiore della pagina.
Gli orari di apertura del nostro ufficio sono dal Lunedì al Venerdì, dalle ore 9,30 alle ore 17,00 (orario Regno Unito)(esclusi i fine settimana e le feste nazionali). Cerchiamo di rispondere a tutte le domande entro 48 ore (2 giorno lavorativo), tuttavia, risponderemo alla maggior parte delle domande anche prima.
Entrega
* NUESTRA GARANTÍA DE NAVIDAD: HAZ TU PEDIDO EL 16 DE DICIEMBRE O ANTES SI QUIERES RECIBIR TU PAQUETE A TIEMPO PARA NAVIDAD. LOS PEDIDOS QUE SE REALICEN DESPUÉS DE ESTA FECHA NO TIENEN ENTREGA GARANTIZADA ANTES DEL 25 DE DICIEMBRE
Ficha Otros en la lista de plantillas y página personalizada de Entrega
¿Dónde entregamos?
Entregamos a todos los países de la Unión Europea, sin embargo, existen las siguientes excepciones:
Europa - excluido ( Andorra , Islas Canarias , Groenlandia , Gibraltar , Islandia , Noruega , San Marino, Suiza y Ciudad del Vaticano , Turquía ).
¿Cuáles son los gastos de envío y plazos de entrega estimados?
Las entregas europeas
Entrega Estándar - (5-10 días laborales ) - GRATIS
(Nota: En este momento no ofrecemos una opción de envío Express para Europa).
Hemos establecido los plazos de entrega estimados anteriormente como un modelo a seguir. Tenga en cuenta que no podemos garantizar que usted recibirá las mercancías dentro de estos plazos de entrega estimados.
Franqueo combinado
Ofrecemos franqueo combinado de su pedido.
Usted puede ordenar hasta 6 artículos y combinarlos con el mismo coste de entrega.
Sólo tiene que añadir todos los artículos, (hasta 6), en su cartera de eBay y, a continuación, pasar a hacer un pago simple. Nota: Los artículos no están reservados en su cesta de eBay, y el pago se debe hacer para garantizar su seguridad. Si usted usa "¡Cómpralo ya!" para artículos individuales, se le cobrarán los gastos de envío para cada orden, por lo que mediante el uso de la cesta de eBay podemos combinar órdenes.
Para obtener más información acerca de cómo agregar artículos a su cesta de eBay, consulte la ficha de Pago.
Nuestros transportistas
Utilizamos el servicio de Royal Mail o uno de nuestros socios de distribución. Si no hay nadie disponible para recibir el paquete, pueden intentar dejarlo con un vecino o en un lugar seguro. Se dejará una tarjeta para avisar de esto, o para confirmar que el paquete ha sido devuelto a la estación local. A continuación, puede ponerse en contacto con ellos para organizar la recogida o concertar una nueva fecha de entrega.
Tenga en cuenta que no siempre se requiere una firma.
Cualquier Otra Consulta
Si usted tiene alguna duda con respecto a la entrega, por favor póngase en contacto con nosotros en ebay@boohoo.com, o simplemente, haga clic en el vínculo "Contactarnos" en la parte superior de la página.
Nuestro horario de atención es de lunes a viernes de 9.30 a 17:00h, (hora del Reino Unido ), (excepto fines de semana y festivos). Nuestro objetivo es responder a todas las preguntas dentro de las 48 horas (2 día hábil), sin embargo ? la mayoría de las consultas se responderá más rápido.
Lieferung
* UNSERE LIEFERGARANTIE VOR WEIHNACHTEN: BESTELLE BIS EINSCHLIEßLICH 17. DEZEMBER, UM DEIN BOOHOO-PAKET PÜNKTLICH ZU WEIHNACHTEN ZU ERHALTEN. FÜR BESTELLUNGEN, DIE NACH DIESEM DATUM EINGEHEN, KANN EINE PÜNKTLICHE LIEFERUNG VOR HEILIGABEND NICHT GARANTIERT WEDERN.
Wohin versenden wir?
Wir versenden nach alle EU – Länder, ausgenommen der folgenden Länder:
Andorra, Kanarischen Inseln, Grönland, Gibraltar, Island, Norwegen, San Marino, die Schweiz, Vatikanstadt, die Türkei.
Versandkosten und Lieferzeiten
Europäischer Versad
Standardversand - (5-10 Werktage) - KOSTENLOS
(Bitte beachten Sie: zur Zeit bieten wir keinen Expressversand nach Europa. )
Unsere voraussichtliche Liefertermin soll durchschnittlich gesehen werden. Bei dem internationalen Versand kann keine genaue Zustellzeit angegeben werden.
Kombiversand
Wir können die Versandkosten von mehreren Artikeln kombinieren.
Sie koennen bis zu 6 Artikeln bestellen und dabei die Versandkosten kombinieren lassen.
Bezahlen Sie alle (bis zu 6) in Ihrem Warenkorb addiertn Artikeln gleichzeitig, damit Sie sich den Kombiversand garantieren.
Sollten Sie weitere Information hinsichtlich des eBay Warenkorbs benötigen, gehen Sie bitte zu dem Zahlung – Abschnitt.
Unsere Kurriere
Wir versenden entweder per Royal Mail oder per einer von unserem Vertragspartner.
Sollten Sie zum Zeitpunkt der Lieferung nicht zu Hause sein, werden Sie mit einem Schein in Ihrem Briefkasten darüber informiert, wo die Sendung zugestellt ist – ein Nachbarhaus oder eine Postfiliale/Packstation. Sie können sie kontaktieren um eine Wunschtermin für Zustellung Ihres Artikels zu vereinbaren.
Achten Sie bitte darauf, dass eine schriftliche Unterschrift mag nicht erforderlich sein.
Weitere Fragen
Sollten Sie weitere Fragen hinsichtich des Versandes haben, kontaktieren Sie bitte uns per Email oder den Link " Verkäufer kontaktieren" anklicken. Unsere Email Adresse lautet:
ebay@boohoo.com
Öffnungszeiten sind Montag bis Freitag, 9.30 – 17.00 Uhr GTM
Wochenende und Feirtage sind ausgeschlossen.
Wir machen alles mögliches Ihre Anfragen spätestens innerhalb 48 Stunden zu beantworten.