Created to order artworks and commissions
Created to order commissions are artworks that I create for you based on the original design shown on the listing. I hand paint the work in the same texture style and using the same colour palette. I make every effort to create your artwork as close to the image as possible. However, it will have some characteristics of its own and be an original in its own right. After creating your artwork in about 2-3 weeks, I will send you a photograph to your email address for your approval before shipping. If you have any questions, please do not hesitate to get in touch.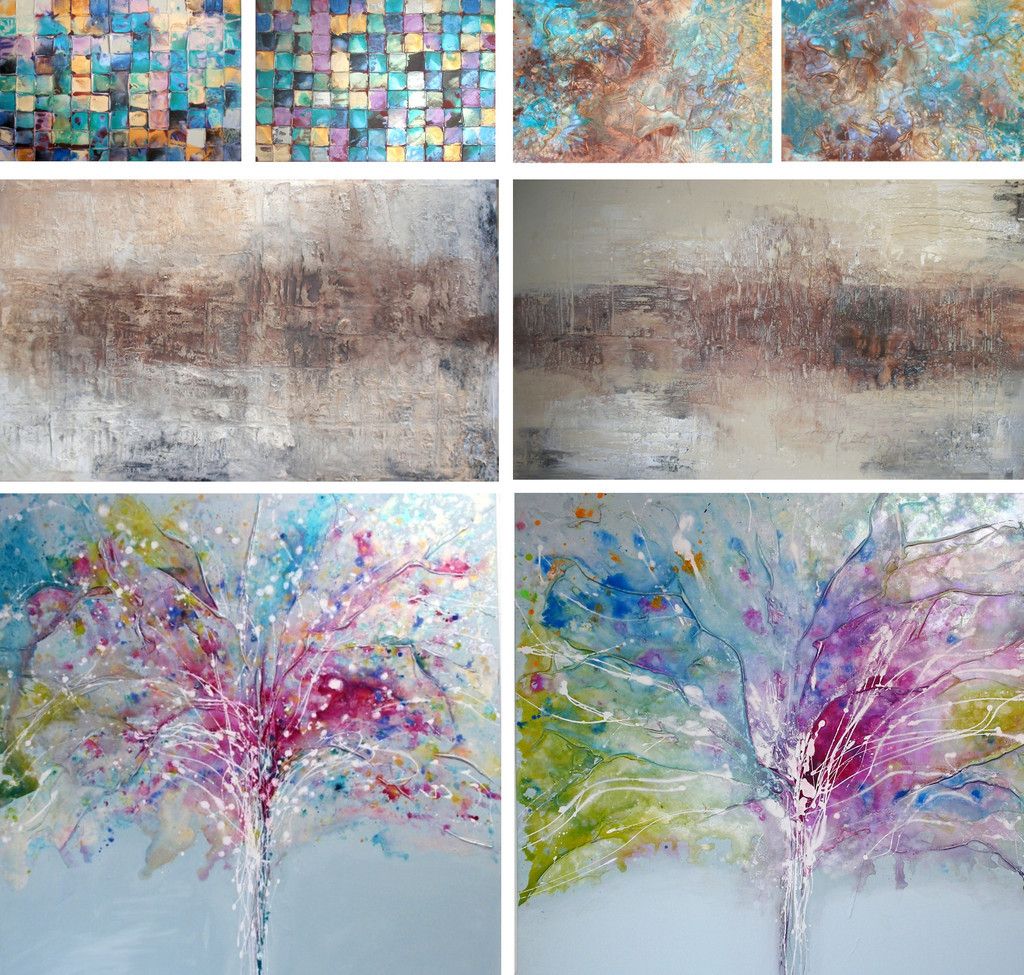 "I've seen a style/design that I like in your eBay store/website, but the colours/sizes are not quite right for my space, could the work be adapted?"

I am often asked by my clients to create artwork based on different colours/sizes. In this scenario, I will always offer a completely honest opinion. If I think that the colours/format would not work with the chosen style, I'll always try and make some alternative suggestions.
I was recently asked to create a particular style in hot pinks and aubergines, and I'll have to be honest, I was not totally convinced that it would work. I was upfront with my client and voiced my concerns. So, with an open mind, I set to work and the result was outstanding...not to everyone's taste, but my client loved the finished piece so much they commissioned two more!

"I like your style/technique, but would like to commission something completely different and unique"

My background is in advertising and part of my job as a creative was to decifer the client brief to get to the bottom of what they really wanted to achieve from the finished work. I approach my commissions in pretty much the same way. In order to get a feel for my customer and gain a total understanding of the desired results, I'll ask plenty of questions. This 'getting to know you' process can take place between emails or on a one to one basis. I'll often produce layouts and rough visuals with some colour samples? I love a challenge!


"If I send you some images of my space, could you make some suggestions?"

No problem. I'll send some imagery by email tailored to colours/schemes/sizes.

"How much can I expect to pay for a commission?"

As a guide, commissions start at just £80 for a small sized canvas at about 12" right up to something XL in scale, 60x48" work would be in the region of £1000-1200. Any size can be created, so please just ask.


"I've seen your current eBay & store listings, where can I view a broader range of your work?"

Please email me if you wish to see more images.

Any more questions?

Just carolineashwoodart@gmail.com
"Can I call you and speak to you direct"

Certainly. I am in the studio most days painting, but please call and leave a message and I will call you back once I am in my office. Tel no: 07910 957393