A Guide to Needle Felting
These are basic instructions on how to create a small felt ball (which I personally use for making felt jewelry) by using the needle felting (dry felting) technique. It is quite easy once you know the necessary steps, and after a bit of practice you can then move on to larger projects and shapes to make e.g. a teddy's head, trunk and legs the same way.
A note of caution: Needle felting is suitable for adults, and children (10 years or older) under supervision. Do not allow your child to try using the very sharp felting needles alone, and always keep the needles out of reach of very young children.
What you will need: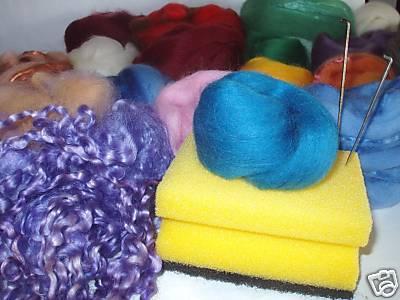 - Wool roving/carded wool, dyed or undyed (not superwash, just pure untreated wool). A small amount of wool goes a long way.
- One foam base such as a kitchen sponge (a spongy surface will prevent the needle from breaking while you work the wool)
- Two felting needles, no.38 and no.40
Step 1:
Pull a small piece of wool off the strand of roving or carded wool and open it up a bit.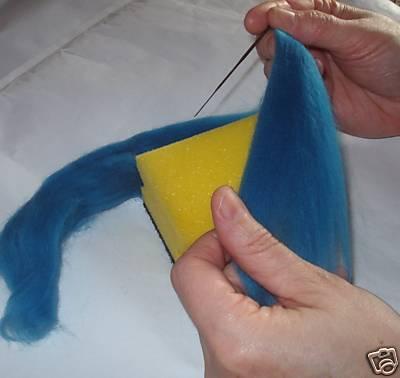 Step 2:
Form the wool to a round shape and hold it tight at one end, away from the needle - always mind your fingers!! Poke the needle up and down (not at an angle!) into the wool in a random pattern, never move the needle sideways while it is in the foam, or the tip will break off. You don't need to use much force. Just allow the needle to penetrate the foam about 1/4" with each poke.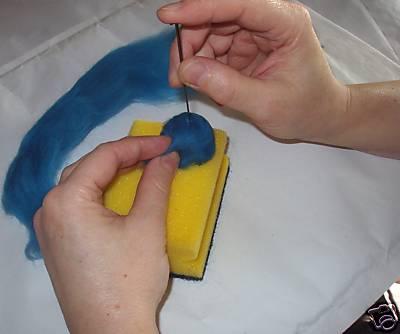 Step 3:
Turn the wool regularly (after about 8-10 pokes) so it does not attach to the foam.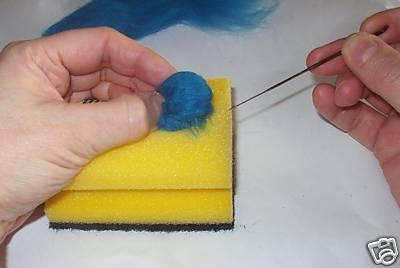 Step 4:
After a few minutes your ball of wool begins to become denser and more solid and may look a bit scruffy like in the photo. Now place the felt ball between your palms and roll it around in circles, as if you wanted to make a dumpling.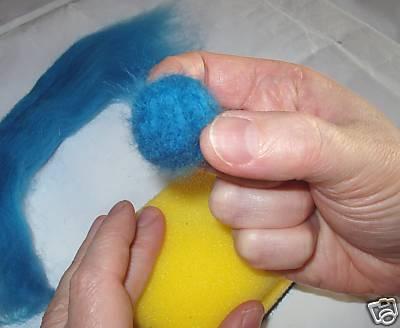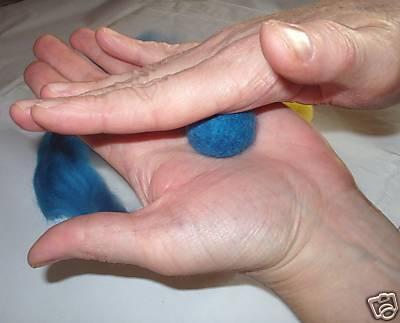 Soon your felt ball will look much smoother: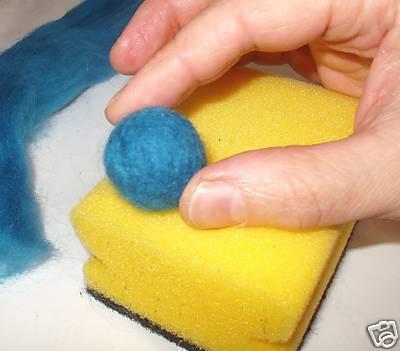 Step 5:
If you are happy with the density of your felt ball you can now embellish it with differently coloured wool and sculpt the surface with a very fine no.40 felting needle. At this stage don't poke all the way through the ball anymore.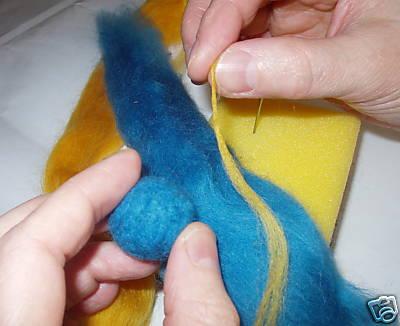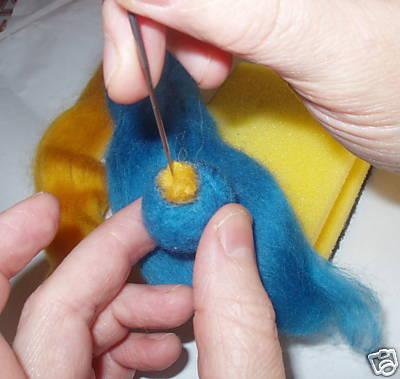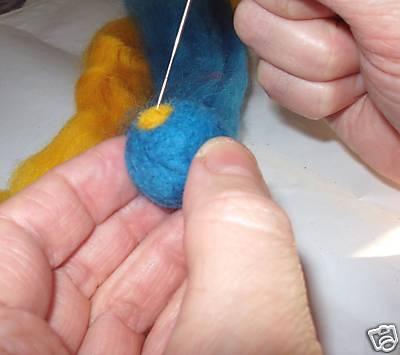 Step 6:
Add as many colours and shapes as you like and finish shaping the ball with the no.40 needle, and by rolling it between your palms a few more times.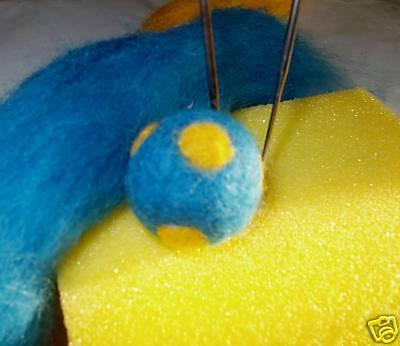 Voila!
I hope that this brief guide will be easy to follow and help you further. Enjoy your project and HAPPY FELTING!!
Yours, Heike - Needlework's Pleasure
www.stores.ebay.co.uk/NEEDLEWORKS-PLEASURE