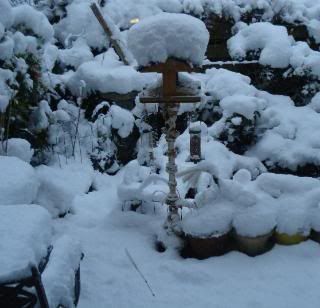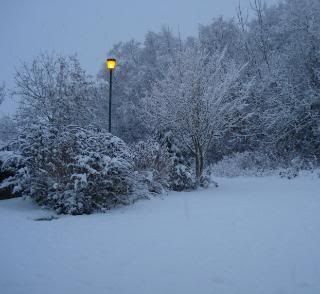 Two Views of the Snow on the 29th November 2010.
The first is a corner of my garden with the Pond and Birds Feeding Station and the 2nd is the view from my Front Door.
TERMS AND CONDITION
METHODS OF PAYMENT :
United Kingdom : Paypal :Personal Cheques : Postal Orders : Bank Transfers
Worldwide : Paypal only .
Any Problems with the above please email .
CLEARED PAYMENTS :
Paypal Instant Payments : Items normally sent within 2 working days.
Personal Cheques : These can take 7 working days to clear my Business Account .I will email on receipt of your Cheque and then again when it has cleared .
Postal Orders : I will email on receipt and then Items are normally sent within 2 working Days .
Echeque : Echeques paid via Paypal can take up to 10 days to clear . I will email on receipt and also tell you Paypal's expected Clearance date.
ANY PROBLEMS WITH THE ABOVE PLEASE EMAIL .
POSTAGE AND PACKING :
I send Items as soon as possible after a Cleared payment,normally within 2 working days ( Not including Weekends and Bank Holidays )
I normally post Mondays,Tuesdays,Thursdays and Fridays
Items are sent by Royal Mail unless Stated in the Item Description.
The price quoted includes Insurance and all packaging and Handling costs.
I try to pack each Item with Care in Acid Free Tissue Paper which you can then use to store the Item when not in use. I would like you to feel you are recieving a Gift when you Item arrives.
WHEN YOU RECIEVE YOUR ITEM :
If there is a problem PLEASE email before leaving FEEDBACK so that any problem can be sorted out .
I leave Feedback on receipt of yours .I normally leave Feedback twice a week so PLEASE don't think I've forgotten or that I don't value your Custom if I don't leave it immediatly as I prefer to leave a Personal Message not an Automated one .
REFUND POLICY ;
14 Days
I refund on return of Item,No Argument but PLEASE do email before returning . Buyer responsible for return postage method plus costs unless Item is significantly not as described.
ANY PROBLEMS PLEASE EMAIL
COMBINED POSTAGE :
I'm only too Happy to Combine Items so as to save on the Postage costs .Overseas this is up to 2 kgs in weight as over this Postage gets very high .In the UK Items can be boxed and sent by Standard Parcels or even Parcel Force so weight is not an issue.
If Auctions finish on different days please email as I'm happy to hold on to Items so as to make a collection.Just let me know when you've finished Shopping.I normally keep a running total for you so you can see what you've bought and how much you've spent .
GENERAL ;
I try to answers Questions for Sellers as quickly as possible but there are times I'm away from the Computer for a fair amount of time e.g. When I'm on my Buying trips.
I,m normally on Line first thing in the morning and then again in the evening .
CONTACT DETAILS ;
FOR ADMINISTRATION AND PAYMENTS ONLY ;
159 Hutton Place,Newton Aycliffe ,Co Durham ,DL5 4QS
PLEASE NOTE ; NO STOCK IS HELD AT THE ABOVE ADDRESS .THIS IS FOR ADMINISTRATION ONLY.